This was first published on the Curvy Sewing Collective.
When I first started sewing, my main objective was costumes, costumes, costumes! I bought my first sewing machine because I was participating in a burlesque show and wasn't able to find a costume in my size. I ran out and bought a little pink sewing machine for $100 and fabric and got started. The first thing I made was a costume that I called Little Red Riding Wolf. The idea was that at first glance, I'd be Little Red Riding Hood, but I'd take off costume pieces to reveal she was the wolf all along. It was made completely without a pattern. I had no experience with patterns so I just winged the whole thing.
This was almost 10 years ago!
I started working with patterns around Christmas of that same year. I was annoyed to find out that most patterns didn't go up to my size and costume patterns really didn't go up to my size. I felt like I was back to square one with my dilemma. That Christmas/January, I made my second costume piece by just using a woven wrap dress pattern. I choreographed an Alice in Wonderland routine. I made a blue wrap dress using an out-of-print Butterick pattern and then found an apron to wear with it.
Over the years after that, I mainly made costumes from RTW clothes. I'd use them as a pattern and then hack them into new things.
This Harley Quinn costume was made using three RTW pieces: a t-shirt, a hoodie, and leggings. I hacked the front and back of the shirt into 4 pieces (2 for the front and 2 for the back) and I added the diamond to one side of the top. You can't see the top in the pictures I have, unfortunately. The hoodie had the back hacked into 2 pieces. The arms were spit into two pieces as well in order to incorporate cuffs at the end that went on my thumbs. The leggings were split into 4 pieces. All pieces were made using cotton lycra in red and black.
I moved from burlesque to improv comedy and made costumes for our Star Trek improv show Holodeck Follies.
Both of these were made with a polyester ponte. I hacked my husband's trek shirt using a long sleeve top. I split both so there was a panel going down the centre with an asymmetrical V at the bottom. My husband's top got a v on the shoulders.
For each of these RTW hacks, I made a pattern first using the clothing and then did the hacking using the flat pattern.
After a few years of doing this, I found it was easier to start with a pattern and just hack that up rather than starting with a RTW garment, making a pattern, and then hacking the pattern. Using an existing pattern also meant that I had more accurate drafting that wasn't muddied by worn out RTW clothing. In both of the above ponte costumes, I hadn't accounted for the lack of stretch in the material and needed to add panels on the side.
For the three additional Trek-inspired costumes, I used two different patterns. For the male tops, I used the Tahoe Tee pattern from Peekaboo Patterns and for the female version I used a Burda knit top pattern. For the Wesley Crusher inspired shirt on the left, all I added was horizontal stripes across the chest. That character in our show was called Weasley Pincher so we didn't want the top to be an exact copy. 😉 It is an improvised parody show after all!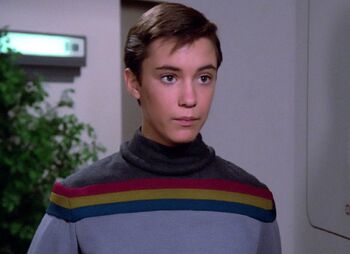 For the other two shirts, I cut off a yoke for the black and then cut the asymmetrical V-shaped panel for the bottom. You can read more about this and see more pictures in this entry.
Some things to remember when pattern hacking is to add seam allowance back into the flat pattern. You can do most hacking to cut panels and colour blocking details, but make sure you add seam allowance or the pattern will be too small.
After these costumes, I got into more complicated hacking using a single woven pattern of a costume jacket for my husband. M7216 is where I started. I did tissue fittings on this to ensure that the pattern fit at various stages of hacking it. That is the bonus of working on a costume for someone else. A dress form is also good for pattern hacking and saving time by doing a tissue fit instead of a muslin. I do not have a dress form, sadly. We wanted a duplicate of Captain Picard's dress uniform from Star Trek: Insurrection.
In order to get this look using McCall's 7216, I had to add panels to the front and make sure there was seam allowance to add in the zipper. For the stitching on the V panels on the shoulders and the shoulder yokes, I just did machine stitching and added gold lame bias tape. If I were to make it again, I would have lined the entire jacket and added quilt batting to that area before stitching. It would have also meant that I didn't need to use shoulder pads to get the structure. It would have made my husband a bit hot, though. I'd use it for my version of the jacket, though, since I am always cold. 😉 The only other pattern hack I did was to add cuffs to the sleeves and a collar stand to the jacket.
You can read more about this project on in this entry.
The final two projects to share are, yes, more Star Trek, two more jackets. One for me and one for my husband. My jacket mimics the dress uniforms of Star Trek TNG and my husband's jacket is a nod to Admiral Kirk's uniform. For my jacket, I used McCall's 6887 and I used the same jacket pattern, M7216, for my husband's jacket.
Pattern hacking for my jacket involved adding a V panel to the shoulders and the sleeve pieces and adding a yoke to the bodice on the front and back. I doubled up the centre panels in order to have the jacket overlap at the centre. The jacket closes using snaps, which don't sit perfectly, unfortunately. They are just sew-on snaps and I keep meaning to replace it with velcro for a flatter look. For my husband's jacket, there was more complicated pattern hacking required. I needed to make two panels for overlap for the front. This involved extending the front pattern piece. I also made panels for the inside of the jacket as well and added facing for the neckline. The turtleneck is just a dickie and I added sleeve tabs and made pins and a belt buckle with polymer clay. You can read more about these two costumes in this blog post.
I have plans for several more costumes for the future. Some are surprisingly not Star Trek. 😉
The key with pattern hacking for cosplay is to look through your patterns and envision what needs to be done for each to make it into a costume.
Start with basic patterns or a sloper.
Make your fit adjustments first before hacking the pattern.
Trace your pattern! You're going to want to use it to hack other costumes.
Hack the pattern and don't forget to add seam allowances to any new panels.
Make a muslin or tissue fit to make sure the hack worked like you wanted.
Make your costume.
Add embellishments, tabs, bias tape, quilting and other details to make your costume even better.
You can often do a lot with just making new panels and adding embellishments to a regular pattern. There are also a lot of characters that you can cosplay by using a simple dress or skirt or top/pants combo in a specific colour or with a patch on it or some applique.
Want to be Mabel Pines from Gravity Falls? Take a sweater pattern, add a turtle neck, add some rainbow patches or applique to the chest, make a skirt, put on a matching headband, white socks, black shoes, grab a stuffed pig and you can even buy fake braces for your teeth! Go solve those mysteries.
Want to be a dalek? Take the Upton dress, lengthen the panels, cut some plastic ping pongs in half, spray paint them and stick them on the skirt panels, use bias tape to get the lines on the bodice, wear a miner's hat with a light, carry a plunger and you're exterminating the whole Comic Con.
Want to be Sailor Moon? Take a circle skirt and make pleats in it. Take a t-shirt pattern and add some stuffed rolls for the V on the hem of the top and the sleeves. Add bows, white gloves, a tiara, a wig, and some jewelry. Grab your moon stick and, in the name of the moon, punish!
With basic patterns, there are almost limitless possibilities for cosplay. Don't feel confined to just using costume patterns and getting frustrated by the lack of selection. Use any pattern, hack it, and make it your own.
Want more suggestions? Let me know what costumes have you always wanted to make and I will give you tips on how to do it. Leave a comment and I will get back to you or feel free to fill out my contact form on my blog and I will email you. 🙂